Dear Friend of the Clinic,
2018 was a challenging year for Nicaragua. Despite the ongoing economic crisis, we are extremely proud of our team and its efforts during these difficult times. Its positive attitude and eagerness to always give its best under all circumstances are inspiring!
We are confident 2019 will be an impactful year. We started it off by celebrating at our Annual Health Fair on February 2! The substantial number of people who look forward to our Health Fair – higher every year – continues to energize us. They come from many communities and remote villages.
This event has become a yearly tradition at the Roberto Clemente Health Clinic. We are delighted to learn what it means to the people of the surrounding communities – especially during times of adversity.
Spreading Gratitude!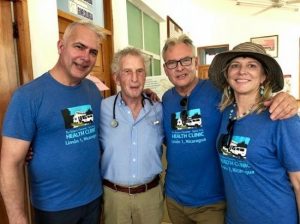 Thank you, Dr. Fred Mandell, pediatrician at Boston Children's Hospital, for coming to the Clinic as a volunteer and helping tremendously at the fair.
On behalf of our entire Clinic team, we would like to extend a special thanks to Mrs. Rosemarie Antonelli Turner and the Turner family for choosing to honor the life of Mr. Alvin "Al" Turner Sr. by asking that donations be made to our Clinic in lieu of flowers. We greatly appreciate such an incredible gesture and all the contributions received from friends and family.
We would also like to express our gratitude to long-time supporter Bill Bonner for recently donating a vehicle to our Clinic.
All these donations are already making a tremendous impact in 2019.
Clean Water Means Health
It is important to highlight the large donations of water that were made in 2018 to nearby health centers – Las Salinas, Las Canas, Asentamiento and San Ignacio. Approximately 463 people benefited.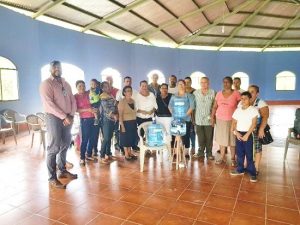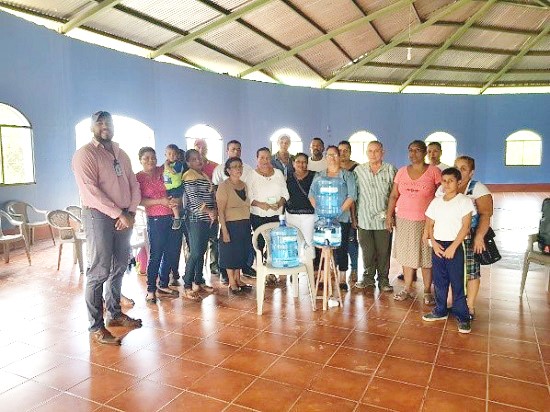 Last year, we also expanded our coverage by giving support to two schools – Limón 2 and Virgen Morena – for a total of four schools and approximately 768 children now benefiting from this project.
We provided water bottles to 53 families of different communities neighboring the Clinic. There is an average of four to five individuals per family, which means more than 200 people enjoyed our purified water in 2018.
We also distribute purified water to all attendees of our weekly Diabetics Club meetings. We hold talks on the importance of drinking clean water, the differences in consumption and the risk of diseases when consuming contaminated water.
Eat Healthy, Be Healthy
In 2018, we were able to build 22 new gardens and monitor 30 gardens we started the year before, concluding with a total of 52 organic gardens.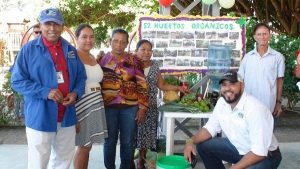 Our main objective is to educate all our participants so that, with our workshops and progress monitoring for two years, they learn the skills to harvest for the rest of their lives. And even more significantly, they will gain the confidence to train other interested parties to replicate the methodology.
As part of this initiative, we provide new participants with protective mesh and seeds to start their gardens.
The construction of beds is always the most physically demanding task, but we observe that participants, specifically diabetics, improve their health and state of mind by doing this physical work.
We also started organic gardens at local public schools. We believe that involving children at an early age is extremely important to impart values of respect and love for Mother Nature.
Many people in the communities see the satisfactory results of the gardens, and they change their mindset that lands in the area are not useful. We've had a significant increase in requests from families who are now interested in creating new organic gardens.

With patience and determination, we promote the teaching of organic agriculture. We transmit to each individual the need to change old soil management habits learned from previous generations. These old ways have done so much damage to our soil and environment.
We teach families to use vacant lands and make them productive in a harmonious and balanced way with the environment. This is what drives our agricultural engineer, Eliezer.
Eliezer is in charge of our Heathy Eating Initiative at the Clinic. He is an agricultural engineer with a degree from Escuela Internacional de Agricultura y Ganadería (EIAG) in Rivas, Nicaragua.
Before Eliezer started our project in 2014, he worked on a tree nursery project growing vegetables. He's also been a landscape foreman at Nicaragua's top golf course.

Our beekeeping project continues to develop. Our apiculture module – now consisting of five beehives – will continue to grow. We are planning to add three more beehives by the end of 2019 for a total of eight. Although the amount of precipitation has not been ideal, the bees are very healthy.
Sponsorship and Volunteering
Our main goal is to provide healthcare, support education and improve the nutrition of the children who are part of the Padrino Program.
We love to encourage children to expand their academic performance through emotional support and motivation from our Clinic team.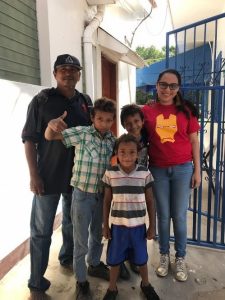 We are always coming up with new activities to get the children motivated and involved. Cleaning sessions were carried out in some areas of the Clinic for embellishment and maintenance of our facilities, including the organic garden. Children have also supported our Clinic team during an educational fair for diabetes prevention. They were a huge help assisting with entertainment activities and logistics.
During these times of crisis, many local professionals have come to the Clinic to offer their services and expertise as volunteers. In November, local volunteer María José Calero Zavala, a psychologist from Managua, Nicaragua, visited the clinic to help and monitor Padrino Program children with special needs. She will be coming by every two weeks to continue her work with these children.
We are extremely hopeful about what 2019 will bring for our Clinic.
We humbly ask you to please consider helping us with our programs. We do not have any grants or endowments, and we rely on individual donors like you to continue operating.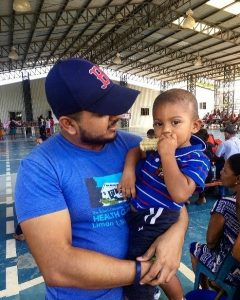 If you have any questions or would like further information about any of our initiatives, please do not hesitate to contact us.
The Roberto Clemente Health Clinic is supported by individual donations. We are a 501(c)(3) nonprofit registered in Maryland, so all donations are tax-deductible. We accept funds through PayPal, where you can also donate with your credit card. You can also mail a check. We accept stock donations as well. To donate, click here.
Sincerely,
Lorena Cernadas
U.S. Development Office
The Roberto Clemente Health Clinic
[email protected]
Direct Line: 410.369.0512