Dear Friend of the Clinic,
The coronavirus pandemic has turned not just our country but the entire world upside down. The consequences are extensive and often severe, especially for the poor. Rural communities face different challenges than urban settings.
The prevention measures we're employing at The Roberto Clemente Health Clinic are designed for our impoverished, rural communities. Our goal is always to give families here in Southwest Nicaragua the opportunity for better nutrition, education and healthcare.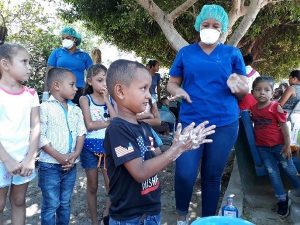 The main challenge? During this pandemic, rural communities are faced with scarce resources and the difficulty of accessing basic services, which is aggravated by limited access to local transportation and medical supplies.
In developing communities, primary healthcare is always a challenge. The pandemic makes it even more acute, especially as we're entering the heavy rainy season, when dengue fever and other chronic illnesses proliferate. Continual education on adequate hygiene, water sanitation, hand-washing and cross-contamination is vital and persistently necessary.
At our Clinic, it's crucial for everyone to work together to combat this pandemic. Community health education programs can slow and control the spread of diseases. The Roberto Clemente Health Clinic has been working on preventing the spread of COVID-19 since the end of February 2020 by…
• Strengthening existing basic services and implementing areas for basic hygiene for people who visit the Clinic
• Providing basic personal protective equipment (PPE) – masks, gloves, disposable aprons, etc. – to healthcare workers
• Implementing medical care with brigades that go out to hard-to-reach communities
• Providing preventive education on COVID-19 and other febrile illnesses
• Supplying much-needed medications
• Preventing cross-contamination of patients with a fever by creating an isolation area
• Implementing waiting areas outside of the Clinic where social distance can be maintained
• Provisioning transportation to patients with a fever to hospitals run by the Ministry of Health
• Working together with the local Ministry of Health, Civil Society, other nongovernmental organizations (NGOs) and local agencies
• Promoting the participation of local volunteers.
When the pandemic hit Nicaragua, we started noticing that the demand for healthcare actually decreased. The loss of jobs and family resources that started in 2018 with the socioeconomic crisis was exacerbated by the pandemic.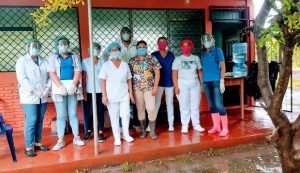 Children stopped attending schools due to the fear of getting sick. Patients did not want to travel to the Clinic and worried that even if they did, they would not be able to afford any medicines – even though we charge below market and give away any donated medicines for free.
So starting in May, as part of our pandemic prevention program, we implemented a community outreach program to serve families in their communities at their homes, prioritizing those that are more remote and have fewer resources.
Our medical brigades provide education on preventive health, proper hand-washing and social distancing practices. They also provide instruction on how to use protective masks correctly and how to manage patients with a fever. We also distributed much-needed medicines that were donated by the Latter-day Saints and food rations that were donated by strategic partners such as the American Nicaraguan Foundation, Isabel Curry and the Fundación Padre Fabretto. And we delivered dresses and toys that were donated by the Pillowcase Project.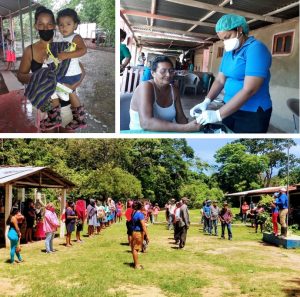 Although this brigades outreach program is expensive for our nonprofit, we know it's critical right now to directly serve the communities where acute and chronic illnesses, offset by the lack of timely care, can have fatal consequences. We could use your support in funding more outreach. Together we can make a difference.
We are always committed to working around the clock to provide services to our community. Our innovative programs and projects play a significant role in helping those in need. In times of crisis and uncertainty, the people in our communities need us more than ever.
The infinite efforts of our Clinic team will continue despite the current crisis. It is now more than ever that we need the support of our donors to strengthen our outreach program and reach more isolated communities.
Your donation will make a huge impact on the lives of thousands of Nicaraguans suffering today.
The Roberto Clemente Health Clinic is supported by individual donations. We are a 501(c)(3) nonprofit registered in Maryland, so all donations are tax-deductible. We accept funds through PayPal, check and credit card. We accept stock donations as well. To donate, click here.
Sincerely,
Julia C. Guth
Chair of the Board
The Roberto Clemente Health Clinic