Dear Friend of the Clinic,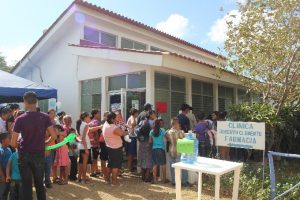 This holiday season, allow me a few moments to take you on a special journey to an impoverished tropical village in southwestern Nicaragua on the Pacific coast.  This is a place in a region that deserves great attention, where any positive investment of time, money and attention has a remarkably positive impact.
I'm writing you to share the joy of making a big difference today for the families in this struggling region.  
The Roberto Clemente Health Clinic opened its doors 15 years ago. It's a beloved community where hundreds of poor families are trying right now to make the best of the holiday season.
Despite their challenges, the holiday spirit is palpable. Imagine attending one of the local Christmas festivities, where you travel past small farms and shacks and dodge pigs and chickens crossing the dirt road. You pass under colorful small-town banners as you overtake the old gentleman carting his sugarcane pulled by oxen. Peer into the small shacks where you may see a modest holiday decoration or two. Wave to the local uniformed children walking home from school… perhaps carrying a special holiday project for their parents. And be sure to stop by the roadside bake sale where you can sample local holiday treats for just a few córdobas… pennies to us.
But let's not forget what else we would easily see:
That many families here in the Pacific coastal community don't have clean running water…

That they don't have more than two-room wooden shacks…

And that now, having even a low-paying manual job is a luxury.
It's hard to imagine how these families will celebrate this holiday season… especially this year, after many lost their jobs when Nicaragua's economically vital tourism industry was decimated by political unrest.
These are the times when people – particularly children – need health and education more than ever in order to prosper.
Several years ago, the Clinic started the special and very successful Padrino Program, which is constantly in demand. The program is especially vital now during these times of crisis in the area.
Our Clinic team currently works with 67 children and their families through this program. These children are matched with people like you who provide financial sponsorship of monthly healthcare and education costs. The sponsors, "Padrinos" or "Madrinas," enable each child to have healthcare and a formal education. They even help purchase essential school items, such as uniforms, supplies and backpacks. The program allows for communication between the Padrinos and their sponsored children in the form of emails and handwritten notes.
******************************
Our hearts fill with joy every time we hear the impact the Padrino Program has made on many Nicaraguan children throughout the years.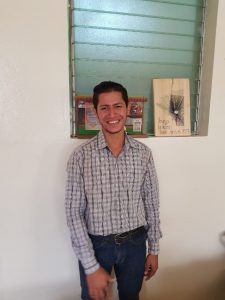 This is Marvin's story…
Marvin Palacios, now 22 years old, joined the Padrino Program at its inception. Marvin's dad passed away when he was very young. He's had the support of only his mom from an early age.
Marvin's mom washes clothes for a living to put food on the table for Marvin and his younger brother.
Through the Padrino Program, The Roberto Clemente Health Clinic has supported Marvin with education and healthcare since 2009, when he was first sponsored.
Marvin went to Cañas School for primary education and attended secondary school at Las Salinas. After he graduated high school, he enrolled in the Hispano-American University. He hopes to graduate as a business administrator – a dream he's had since he was a little kid.
Marvin's life has had very difficult periods, but thanks to his sponsor, he was able to stay in school and fulfill his childhood dream of attending college.
Marvin considers our Clinic his second home. He is a responsible student and earns good grades. He will graduate early next year, and we could not be more delighted for his achievements.
******************************
THESE CHILDREN AND THEIR FAMILIES ARE WAITING FOR YOU…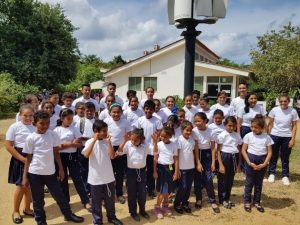 The Padrino Program hands out uniforms and school supplies at the beginning of every school year to each sponsored child. The children have lab tests to assess their health twice per year. Every child also receives appropriate treatment for any medical condition.
We continue to improve communication between children and their sponsors. This personal connection lifts the spirits of both those receiving and giving aid. Continuing support throughout the year allows each child in our program to feel more secure in their education as well as their health.
Our program coordinator will communicate by email twice a year about the progress your child is making in school. These messages will also include a report from the doctor on the child's current developmental and nutritional status. You can get your child's picture, and you can share encouragement and inspiration that you believe will help the child to grow as a person and improve their performance at school.
In addition, in 2018, we completed the first-year evaluation of our complementary Nutrition Program, which consists of delivering protein concentrate, rice and beans to children who participate in the Padrino Program and their families. It's a service that is extremely necessary at this time in Nicaragua.
Child sponsorship tackles poverty and empowers children, families and communities to become self-sustaining. It's a one-to-one relationship that gives a child in need hope for a brighter future and changes their world for good.
We critically need more sponsors right now. We have a waitlist of children that continues to grow. These children are in desperate need of your help. Your support will have a positive impact on an entire community's well-being.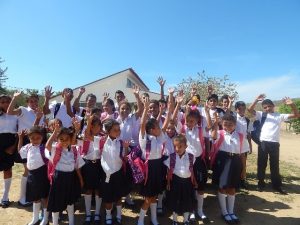 Here is what your generous donation could provide for a child in Nicaragua:
With a $25 per month donation for one year, one student could afford to purchase two sets of school uniforms and the necessary books, backpack and school supplies to fully engage in their school experience.
With a $50 per month donation for one year, one student could afford to purchase two sets of school uniforms and the necessary books, backpack and school supplies, as well as an entire year of healthcare protection. This includes a bimonthly visit to our Clinic, medicine as needed, nutritional assistance with vitamins and supplements, and a vaccination program. This level of giving provides a student with the comprehensive resources needed to succeed in school and beyond.
For many people, knowing exactly where their money is going is important and helps them feel more confident in the donations they are making.
There is no doubt about it: Your sponsorship will make a huge difference in the life of the child you sponsor – now more than ever.
Ready to become a sponsor?
Please click here to learn more about the program and help a child today.
The Roberto Clemente Health Clinic is 100% supported by donations. We are a 501(c)(3) nonprofit registered in Maryland, so all donations are tax-deductible. We accept funds through PayPal, check or credit card. 
To get started with a child in his family in the Padrino Program — or — to donate to support our other programs, like clean water filtration and distribution, or our diabetes support program, emergency care, and much more…please click this link.
We wish you and your family a very happy and healthy holiday!
Most sincerely,
Julia C. Guth
Chair of the Board
The Roberto Clemente Health Clinic
P.S. Our Clinic has been honored with the prestigious 2018 Top-Rated Nonprofit Award by GreatNonprofits, the leading provider of user reviews about nonprofit organizations.
P.P.S. To see how we measure ROI in this region, and the impact on this poor community, check out Impact in 2018 infographic.  You can make a big difference today with so little!