Dear Friend of the Clinic,
On behalf of The Roberto Clemente Health Clinic team, I am excited to share with you this invitation for a trip unlike any other…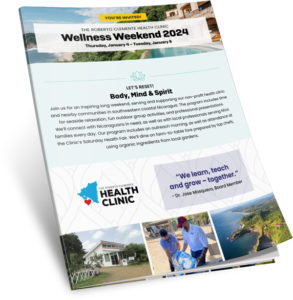 We are already getting a great response. This trip should sell out, but we want you to be a part of it. Registration and space are reserved on a first-come, first-served basis!
After reading our event brochure, go here for more information and to register for the event.
If you have any questions or need registration assistance, please reach out to Caitlin Kratz at [email protected].
We hope to see you in Nicaragua in early January 2024!
Sincerely,
Julia C. Guthwww.nicaclinic.org
Chair of the Board and Founder The Roberto Clemente Health Clinic
P.S. We would like to give a special thanks to our event travel agency for creating this Wellness Weekend website – gratis. Thank you, Barb Perriello and Jamie Perriello of Opportunity Travel! And thank you to The Oxford Club for helping us with the marketing materials and event planning.