Dear Friend of the Clinic,
Today I want to show you how a powerful outreach program is affecting the lives of many impoverished families in a remote part of the world.
These families live far away from you and from me. More importantly, they live far from any towns with healthcare services. They live in shacks, making a few dollars a day at best or nothing at all. Kids struggle to get to school, and parents can't get work. There is too much economic devastation in this region.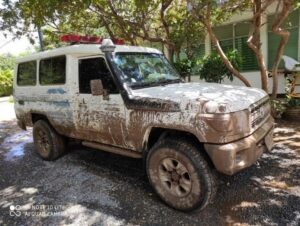 But help does come with this special outreach program. It comes in the form of our medical brigade team that sets out every other week, armed with medicines, clean water, donated clothing, nutritional packs, and lots of kind words and educational guidance.
The Clinic team travels to these highly remote villages using our off-road "safari caliber" four-wheel-drive ambulance. It's equipped with a stretcher, defibrillator, spine board, oxygen masks, bandages, and a range of medicines and intravenous fluids. Staffed with a nurse or a doctor and our EMT driver, the ambulance leaves from our clean and recently expanded Clinic facility and travels along a dirt road in southwest coastal Nicaragua for hours to service the most disadvantaged families.
These "remote Clinic days" are part of our Community Outreach Program, which we've expanded dramatically since hurricanes Eta and Iota flooded the region, wiping away homes and livelihoods. And next came the pandemic.
Last year, 16 communities were visited and 1,829 people of all ages were provided with medical care and medicines.
A special story…
One of the communities our Clinic team visited was La Cúcala, where team members met Mrs. Margarita Obando, an 87-year-old loving lady with diabetes and hypertension.
Margarita's family had not been able to take her to a medical consultation in years due to many factors, including limited resources, a precarious situation and her disability. Margarita is in a wheelchair, and it's extremely difficult to mobilize her, as she lives in such a remote area.
There are many cases like that of Margarita, affecting the elderly, children and pregnant women, who are priority groups for this type of medical care.
The team travels far and wide, through mud, small rivers and steep hills to get to where these families live. And these families can't access the Clinic; they have no means to. Many have no money, no jobs and no means of transport. If they do, it takes them all day just to go one way to the Clinic or town.
Most have lived in these isolated tropical forests their entire lives. But in recent years, the region has been ravaged by floods, COVID-19 and economic disasters.
The main challenge? During times of crisis, rural communities are faced with scarce resources and have difficulty accessing basic services. And that is exacerbated by limited access to local transportation and medical supplies.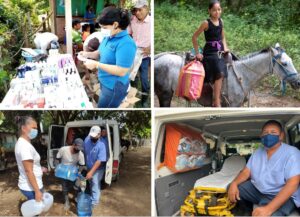 In developing communities, primary healthcare is always a challenge.
The Clinic serves a marginalized population of about 35,000 people, many of whom live in mud-floor shacks in small villages accessible only by poor roads. Along the beautiful Pacific coast of Nicaragua, tourism was a big part of the economy during normal times. But these times are anything but normal. Knowing how crazy it's been in wealthy countries, you can only imagine how severe the challenges are in poor countries. But we don't have to imagine…
Our dedicated Clinic team tells us…
This past year has been extremely difficult for our Clinic's programs, like our Diabetes Club. The costs of medicines and medical supplies have increased so much that it's impossible for patients to obtain them. We need to support our people with medicines in order to keep their disease under control and avoid complications.
We desperately need to build an isolation unit for patients with fevers and suspected cases of COVID-19. The unit will treat children and adults. It needs to have two beds, emergency equipment, oxygen concentrators, and equipment for hydrating children, along with an independent bathroom.
We also need to expand our programs, such as our Padrino Program, to ensure food provision, secure water and food rations for families in extreme poverty.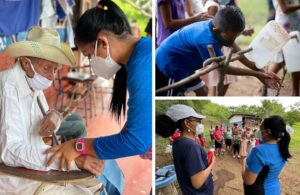 And just like in much of Africa and Southeast Asia, the tourism industry in Nicaragua has been destroyed by COVID-19. Most governments don't have the resources to supplement income or distribute vaccines. Nicaragua doesn't have a national ambulance system, so our ambulance services with two EMTs are essential to this area.
At our Clinic, it's crucial for everyone to work together to overcome challenges. Community health education programs can slow and control the spread of diseases. In addition to responding to the crisis of dengue fever and Zika virus crises in past years, The Roberto Clemente Health Clinic has been working on preventing the spread of COVID-19 since February 2020.
As part of our pandemic prevention program, our Community Outreach Program was created to serve families in their communities, prioritizing those that are more remote and have fewer resources. This has been a blessing for thousands of families.
Our medical brigades provide education on preventive health, proper hand-washing and social distancing practices. They also provide instruction on how to use protective masks correctly and how to treat patients with a fever. Our medical brigades also distribute much-needed medicines.
Although the Community Outreach Program is expensive for our nonprofit, we know it is critical right now to directly serve the communities where acute and chronic illnesses, offset by the lack of timely care, can have fatal consequences.
And we could not do our rewarding work without the continual support of our donors, volunteers and wonderful team.
We were recently visited by two members of our Advisory Council: Chip Duncan, award-winning documentarian, film producer, author and photographer, and Dr. Hernando Garzon, an emergency medicine physician from Sacramento, California.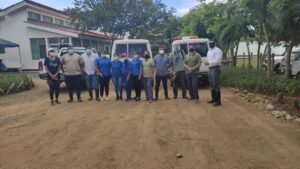 Chip and Hernando with some members of our Clinic team.
As Chip Duncan said, "The pandemic has taken its toll on communities everywhere. Many people in North America and Europe have recovered, but for much of the developing world and global south, huge challenges remain."
The Clinic lacks the resources of the thriving modern health facilities many of us have in our neighborhoods, and we can use any donation you might consider.
We are so proud of our team. The team's quality of work and dedication are outstanding. The full-time staff of 24 people, including doctors and nurses on a 24/7 rotation, is everything to this region. The team treats and evacuates patients in areas that are nearly impossible to reach.
And here's how far your donation can go…
• With $50 a month for an entire year, you could give one student two sets of school uniforms and the necessary books, a backpack and school supplies, as well as an entire year of healthcare protection, including a bimonthly visit to our Clinic, medicine as needed, nutritional assistance with vitamins and supplements, and vaccines.
• With $100 a month, you could give 10 people with diabetes the opportunity to join our Diabetes Club and make sure they receive the education, nutritional guidance and follow-up treatment they urgently need to improve their quality of life.
• With $200 a month, you could provide 20 families with access to clean drinking water, which prevents severe issues commonly caused by contaminated water, such as diarrhea, birth defects, cancer, typhoid fever and cholera.
• With $500 a month, you could help 10 families start organic gardens in their own backyards – providing the necessary supplies and seeds, as well as some valuable training in basic gardening, soil enhancement, nutrition and natural pest control.
Our goal is always to give families here in southwest Nicaragua the opportunity for sustained better nutrition, education and healthcare.
We are committed to working around the clock to provide services to our community. Our innovative programs and projects play a significant role in helping those in need. In times of crisis and uncertainty, the people in our communities need us more than ever.
The infinite efforts of our Clinic team will continue despite the current crisis. It is now more than ever that we need the support of our donors to strengthen our Community Outreach Program and reach more isolated communities.
Your donation will have a huge impact on the lives of thousands of Nicaraguans suffering today.
The Roberto Clemente Health Clinic is supported by individual donations. We are a 501(c)(3) nonprofit registered in Maryland, so all donations are tax-deductible. We accept funds through PayPal, check and credit card.
We can accept stock and Bitcoin donations as well.
To donate, click here.
Sincerely,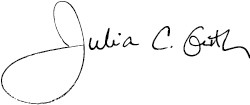 Julia C. Guth
Chair of the Board
The Roberto Clemente Health Clinic
P.S. The Oxford Club is providing matching funds up to a total of $50,000 for donations made by December 31, 2021.
P.P.S. A global generosity movement is happening on November 30, 2021! Giving Tuesday is a movement that's unleashing the power of people and organizations to transform their communities and the world. Please support our mission of providing affordable access to high-quality healthcare and wellness programs in the Tola coastal communities of Nicaragua this coming Giving Tuesday. Click here to donate online.