Dear Friend of the Clinic,
In the spirit of the holiday season, we want you to know how grateful we are for your support of The Roberto Clemente Health Clinic.
Thanks to YOU, we assisted hundreds of families in the area who desperately asked for our help. As you know, they were struck by COVID-19 and then back-to-back hurricanes. It's been extremely difficult for them to carry on with their lives and have enough food, clean water, medicines and supplies.
Today – thanks to your support – we are able to provide outreach to those in dire need.
It is in these holiday times – more so than ever – that the communities surrounding the Clinic get some joy from the care and outreach we provide… And they appreciate the strength and comfort of The Roberto Clemente Health Clinic being there for them 24/7.
All our efforts could not have been possible without your contributions, the incessant work of our Clinic staff, local and international volunteers, and our strategic partners.
We still have a lot of work to do.
Please join us in continuing to support this community.
For those of you who have not completed your year-end giving, please consider our relief effort today. Your donation goes a long way in Nicaragua.
Together, we are making a difference in the lives of thousands of Nicaraguans.
And here's a special message for you! Click below to view a video greeting from our staff.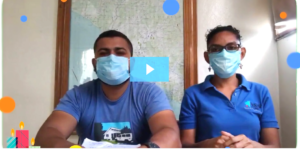 From our Clinic team, THANK YOU from the bottom of our hearts!
Please join us today by donating here.
The Roberto Clemente Health Clinic is a donor-supported 501(c)(3) nonprofit registered in Maryland, so your donation is 100% tax-deductible.
Happy holidays to you and your family,
Julia C. Guth
Chair of the Board
The Roberto Clemente Health Clinic
nicaclinic.org