Dear Friend of the Clinic,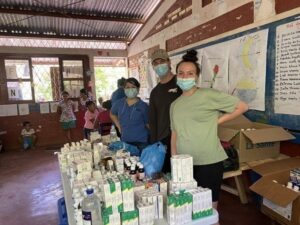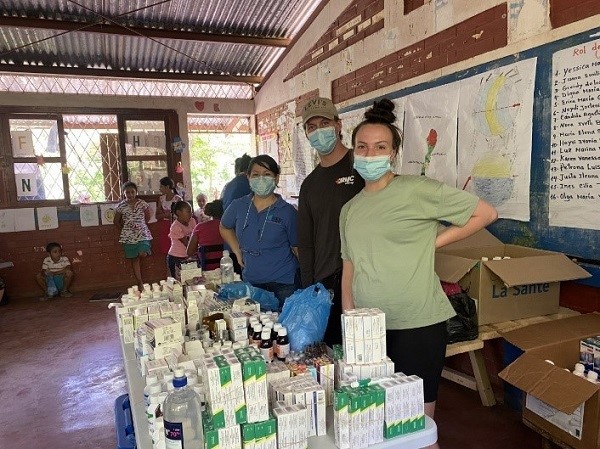 The rainy season has started in Nicaragua, and we are ready to shower you with great news from our Clinic! We have important updates on our projects and programs.
In May, we received 40 food packages from our longtime supporter Isabel Currey, which we were able to distribute to 65 families. And we will continue to distribute more food packages in the coming months.
We are also grateful to see an uptick in the number of local families volunteering at the Clinic. It is a huge help to our small team.
They help with ordinary cleaning and maintenance in the different areas of the Clinic's recently expanded facility. They also help weed and water our growing organic garden and keep our outdoor areas looking clean and beautiful!
We've also seen an increase in international volunteering. Beginning in May, Colton and his wife, Marlee, came to volunteer. Colton is a medical student, and Marlee is a cosmetologist. They were interested in participating in medical and nonmedical activities.
They supported our Clean Water Initiative by distributing bottles of water to local schools and helped with the washing and filling process in our water treatment plant. They also helped with packaging and delivering foods for our Nutrition Program and participated in a variety of activities. They visited our organic garden, learned about our beekeeping project, cleaned green areas, supported doctors and nurses in patient care, and took part in our Community Outreach Program.
In the words of our volunteer Colton…
This is a great nonprofit in rural Nicaragua that is doing a lot to help the people in nearby communities. They provide important medicine, free care, clean water and tons of other great programs to support their community. My wife and I volunteered here for two months while living in the nearby city of Rivas, and it was a great opportunity for us to learn more about the people here and see the challenges they face.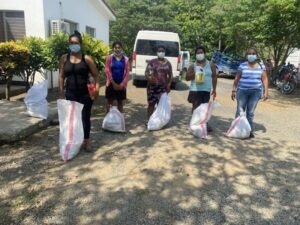 We love our volunteers! Want to learn more about our Volunteers Program? Click here!
As part of our Pandemic Prevention Program, our Community Outreach Program was created to serve families directly in their communities, prioritizing the communities that are more remote and have less resources. This has been a blessing for thousands of families.
Our medical brigades provide education on preventive health. They also provide instruction on how to use protective masks correctly and how to treat patients with a fever. Our medical brigades also distribute much-needed medicines.
Although the Community Outreach Program is expensive for our nonprofit, we know it is critical right now to directly serve the communities where chronic illnesses can have terrible consequences.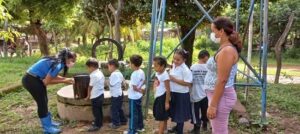 These Nicaraguan communities are in great need of primary care, emergency care and nutritional support. We are there on the ground in very tangible ways every day, and the communities are deeply appreciative. They are also participating in our programs in greater numbers than ever before.
The Roberto Clemente Health Clinic is supported primarily by individual donations. We have a matching program through The Oxford Club. We are a 501(c)(3) nonprofit registered in Maryland, so all your donations are tax-deductible. We accept funds through PayPal, where you can donate with your credit card. You can also mail a check, and we accept stock donations as well. To donate, click here.
On behalf of the Clinic team, enjoy your summer! And come visit us soon!
Sincerely,
Lorena Cernadas
U.S. Development Office
The Roberto Clemente Health Clinic
[email protected]
P.S. If you love our work, then tell the world! Stories about us from people like you will help us make an even bigger impact in our community. GreatNonprofits – the No. 1 source of nonprofit stories and feedback – is honoring highly regarded nonprofits with its 2022 Top-Rated Awards. Will you help us raise visibility for our work by posting a brief story about your experience with us? All content will be visible to potential donors and volunteers. It's easy and takes only three minutes! Click here to get started.