Dear Friend of the Clinic,
As we leave 2020 behind, we want to take this moment to thank you for all your support. You are the reason we can provide affordable access to high-quality healthcare and wellness programs in an impoverished rural region of Nicaragua.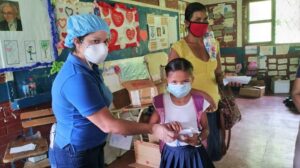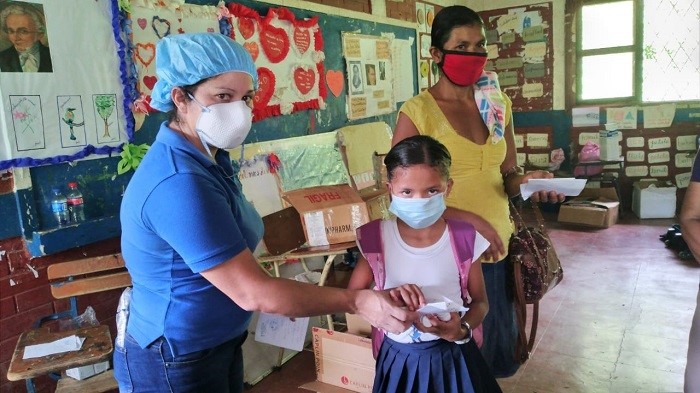 Your support and interest inspire the continued dedication and professionalism of our Nicaraguan Clinic team. Despite all the difficulties our team had to face in 2020 – including the COVID-19 pandemic, the radical increase of unemployment in the area, and the devastation from Hurricane Eta and Hurricane Iota – the team's positive effect on the community prevailed.
We start 2021 confident we'll have a better year.
Our team had many accomplishments in 2020…
✓ We provided immediate assistance to countless families affected by the hurricanes. (It is estimated that 90% of the families suffered floods and/or loss of assets during the storms. With the help of our partners, we were able to provide extra food packages, clothes, medical care and free medicines.)
✓ The Clinic offered more than 58,000 medical and wellness attentions.
✓ We directly supported 62 children – including 14 special needs children – in our Padrino Program for health and education.
✓ The team provided clean water to eight local schools, four health centers and families who were affected by the hurricanes. More than 6,900 people benefited from our Clean Water Initiative.
✓ We donated food packages to more than 1,500 families in the Tola communities.
✓ We shared educational information with people of the surrounding communities on issues of importance and urgency, such as COVID-19.
✓ The Clinic strengthened support ties with other nonprofit organizations and private donors in order to give continuity to our projects and programs in the midst of crises.
And we will build on these accomplishments throughout 2021.
Padrino Program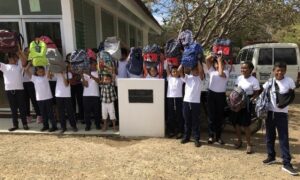 As we do every year, we delivered supplies and uniforms in February 2020 to all the children who benefit from our Padrino Program. Children received notebooks, pencils, backpacks, and crayons in addition to a general medical checkup and annual deworming.
There are still children looking for sponsors. Click here if you are interested in becoming a Padrino.
During the second delivery, due to the increase in cases of COVID-19 in Nicaragua, the Clinic team delivered hygiene kits that contained masks, hand sanitizer and soap for children to use at home and at school. In addition to this, an educational campaign was carried out. It focused on protection, prevention, the proper use of masks and proper hand-washing techniques. These educational talks were shared with parents and children of the Padrino Program.
Volunteers Program
Undoubtedly, our Volunteers Program is the program that suffered the most since the COVID-19 pandemic started – especially with international volunteers. Throughout 2020, there were volunteers interested in coming to the Clinic, but the circumstances did not allow them to travel.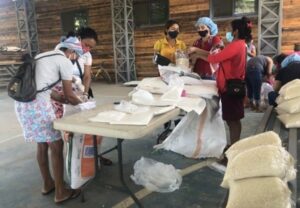 The good news is that we received more assistance than ever from local volunteers who were very willing to help out. They helped clean and maintain our Clinic and warehouse, load and unload donations, and package food. They also assisted with water deliveries. However, due to the increase in cases of COVID-19 in Nicaragua, we decided to suspend all activities with our volunteers in May to prevent the spread of the virus. Luckily, we were able to resume some outdoor activities in October with safety protocols in place.
Nutrition Program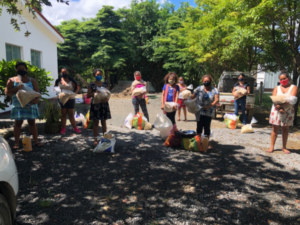 For the first time in the entire history of the Nutrition Program, we were able to deliver food every single month. And the timing for the Clinic to undertake this ambitious support was critical, given the devastating economic downturn in the region. This program was possible thanks to the donations of our local partners, such as the American Nicaraguan Foundation (ANF), the Fabretto Children's Foundation, Tierra de Hombres Italia, Isabel Currey, the Palko Family, Rancho Santana and private donors like you.
We brought help to families that are part of our Nutrition Program and even expanded into other communities that had food needs due to the increase in unemployment.
In 2021, we hope to increase our local and international support network and expand our Nutrition Program even more.
Clean Water Initiative
For many years, access to purified water in the municipality of Tola was a struggle, especially in remote rural areas. That's why our Clean Water Initiative has become so vital.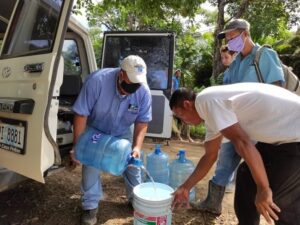 In 2020, the first mini-expansion of the program was carried out, allowing us to bring more clean water to thousands of people.
Water deliveries to health centers and schools continue to occur every Monday.
Thanks to our effort and teamwork, we were able to obtain a new agreement with the Fabretto Children's Foundation to distribute purifying water packets to many families in need of clean water.
With the devastation of hurricanes Eta and Iota, community wells and hundreds of homes were completely contaminated. And some were completely destroyed. Hundreds of families were left without access to clean water, generating great need and confusion among the population. Thanks to the donations and support from different organizations – such as ANF, the Fabretto Children's Foundation and Tierra de Hombres Italia – we received purification filters for our water purification plant, which, due to excess demand, required extra maintenance in order to continue producing quality water suitable for consumption.
We're looking forward to the rest of 2021 with hope and optimism! We humbly ask you to please consider helping us expand on our programs and build on our success.
If you have any questions or would like further information about any of our initiatives, please do not hesitate to contact us at [email protected].
The Roberto Clemente Health Clinic is supported by individual donations. We are a 501(c)(3) nonprofit registered in Maryland, so all donations are tax-deductible. We accept funds through PayPal, where you can also donate with your credit card. You can also mail a check. To donate, click here.
Sincerely,
Lorena Cernadas
U.S. Development Office
The Roberto Clemente Health Clinic
[email protected]
Direct line: 410.369.0512
P.S. HAS YOUR STOCK AND/OR BITCOIN APPRECIATED? ARE YOU LOOKING TO DONATE APPRECIATED ASSETS AND SAVE ON TAXES?
WE NOW ACCEPT STOCK DONATIONS THROUGH SCHWAB. WE ALSO ACCEPT BITCOIN DONATIONS THROUGH COINBASE. PLEASE CONTACT ME ABOVE FOR MORE INFORMATION.