Dear Friend of Our NicaClinic,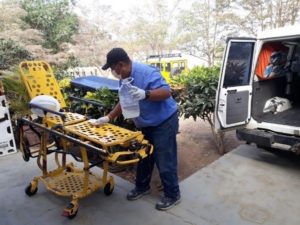 The Roberto Clemente Health Clinic team continues to diligently monitor the coronavirus situation in Nicaragua and around the globe. We have now developed a plan for the prevention and mitigation of the effects of the coronavirus pandemic in our work area.
We have implemented a waiting area for patients outside the Clinic, where we offer preventive education to everyone who needs our services. We have also created an exclusive area for hand washing and hand sanitizer use.
We maintain the waiting area in compliance with the recommendations of the World Health Organization (WHO) to conserve social distance, and we are implementing fractional access to the interior of the Clinic.
This past week, we also set up an isolation area for patients with fevers. Nicaragua is a country with prevalent febrile diseases, such as malaria, dengue and, currently, COVID-19, the disease caused by the novel coronavirus.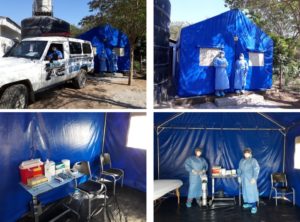 All patients who come to the Clinic with a fever are treated in our isolation area – a tent equipped to protect the fevered patient and our staff from cross contamination. We have built up this tent outside the Clinic, offering privacy to the patients. And the tent is supplied with adequate equipment so patients can receive proper treatment.
If a febrile patient needs a laboratory diagnosis and treatment in a specialty hospital, we make the necessary arrangements for the patient to be transferred by ambulance in a timely and safe manner.
The protection of our patients, their families and our personnel is a priority for us. We are extremely proud to have a highly qualified team that is dedicated to preserving the health of the community.
During these dark and difficult times, we also wanted to bring some light by sharing inspiring and exciting news about how we kicked off 2020 with a focus on WELLNESS!

In January, The Roberto Clemente Health Clinic hosted a Wellness Weekend trip to beautiful Tola, Nicaragua. Guests joined us from all around the world to visit our Clinic, volunteer at our annual Community Health Fair, and focus on individual wellness through yoga, local cuisine and relaxation.
Every year, we host the Community Health Fair to promote education on healthy eating, exercise, and preventative healthcare for diabetes and obesity. We had so much fun this year with new and returning fairgoers from surrounding communities and other countries. This event has become a tradition with dancing, laughing and celebrating wellness.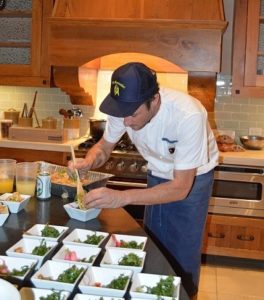 Thank you to the doctors, including Dr. Fred Mandell and Dr. Gokhan Mamur, for providing free medical consultations to children and adults during the Fair.
Guests spent a day learning about our Organic Garden Program with our agricultural engineer, Eliezer Holman. They learned not only about the various fruits and vegetables grown in Nicaragua, but also about the hard work and dedication participants in our Organic Garden Program need to grow successful gardens. We ended the day with a wonderful dinner, using all local ingredients, cooked by celebrity chef Sam Talbot.
The Clinic provides services to the 35 surrounding communities of Tola. We visited members of the community who participate in programs offered by the Clinic, such as our Padrino Program (a student sponsorship program) and our Diabetes Club.
We even got to hear from our first student to graduate from the Padrino Program. We learned more about his experiences moving on to university and learning English!

Last but not least, we focused on individual wellness. We connected with our inner peace through yoga, found tranquility while hiking through colorful and lively forests, and ended every evening with beautiful Nicaraguan sunsets over the Pacific Ocean.
Mark your calendars now for next year's Wellness Weekend from January 21 to 26! If you would like to learn more, please contact Lorena Cernadas at [email protected].
Sincerely,
Julia C. Guth
Clinic Founder and Board Chair
The Roberto Clemente Health Clinic
[email protected]