Dear Friend of the Clinic,
In today's world, to me there is no better feeling than helping others.
Volunteering at The Roberto Clemente Health Clinic has given me and many others the unmatchable experience of working side by side with our doctors and nurses – as well as our organic master gardener, nutritionist, diabetes expert, pharmacist and clean water manager – to help those in desperate need. It's a nourishing experience.
The NicaClinic team loves our volunteers! Their strong desire to help others is so admirable.
Even on short notice, we can organize a robust yet balanced schedule of volunteering endeavors in Nicaragua.
Depending on their experience level, our volunteers can participate a range of activities, from taking vital signs and helping with patient intake to providing emergency care.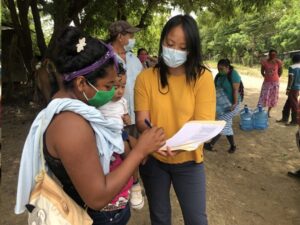 Last year, our Volunteers Program suffered because of the COVID-19 pandemic.
2021 is bringing volunteers back to our Clinic. This summer, we received two big groups of volunteers from Helping Kids Round First and Por la Sonrisa de un Niño. We also received the support of Stephanie Chu (a nurse) and Diana Wong (a physiotherapist), who volunteered for two weeks developing medical activities in the Clinic and supporting our programs and projects in the community.
The support of these volunteers has been fundamental to the development of our community activities. We cannot thank them enough for the time they invested.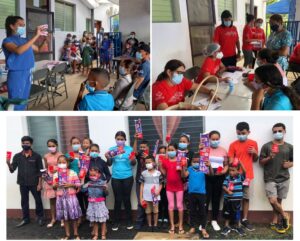 And this is what our volunteers are saying about their experience!
"This experience was amazing. The staff and additional volunteers were amazing and very helpful! I was able to learn a lot from this clinic and see what a beautiful country Nicaragua is! The people within the community were extremely grateful for our help and were very friendly. Overall, this experience is one that I will never forget, and I would love to come again in the future!"
– Isabella T.
"In January 2020, I had the privilege of volunteering at the annual Health Fair put on by The Roberto Clemente Health Clinic in Tola, Nicaragua. Local people came from miles around to get tested for diabetes and high blood pressure, learn how to grow and cook their own nutritious food, learn the importance of wearing a motorcycle helmet, receive safe drinking water for their children, and be seen by one of the Clinic's dedicated doctors or nurses. Everyone was smiling, happy and grateful. It was a humbling experience to be a small part of something that improves so many lives in this impoverished but wonderful part of the world."
– Marilyn F.
We invite anyone who's interested in an international volunteer experience. We have a variety of opportunities for everyone – including healthcare workers, business and administrative professionals, teachers, social workers, dieticians, high school and college students, and retirees. This is the perfect volunteer opportunity for you.
If discovering a new country through surfing, camping, horseback riding and hiking sounds ideal to you, consider a volunteer vacation to Nicaragua – especially now with the coming cold months in the U.S.
Want to help without travel? Here's a great way to help, too…
You can even stay at a resort while on your overseas volunteer vacation! For example, you can enjoy a terrific resort at a discount: Rancho Santana. It is close to the Clinic, has an ocean view and amazing amenities, and can even assist you with travel arrangements.
We realize most of you reading this are not traveling these days, but you can still help the Clinic from afar by supporting our projects and programs, such as our Healthy Eating Initiative, Clean Water Initiative and Padrino Program for health and education.
The Roberto Clemente Health Clinic is supported by individual donations. We are a 501(c)(3) nonprofit registered in Maryland, so all donations are tax-deductible. We accept funds through PayPal, check and credit card. We accept cryptocurrency and stock donations as well. To donate, click here.
Sincerely,
Lorena Cernadas
U.S. Development Office
The Roberto Clemente Health Clinic
[email protected]
Direct line: 410.369.0512
P.S. If you love our work, then tell the world! Stories about us from people like you will help us make an even bigger impact in our community. GreatNonprofits – the No. 1 source of nonprofit stories and feedback – is honoring highly regarded nonprofits with its 2021 Top-Rated List. Will you help us raise visibility for our work by posting a brief story of your experience with us? All content will be visible to potential donors and volunteers. It's easy and takes only three minutes! Go here to get started!