Dear Friend of the Clinic,
So often, the U.S. news media forgets how COVID-19 is ravishing families in poorer countries overseas. Impoverished families – particularly children – need better healthcare and more education just to survive this pandemic.
And Nicaragua – being the second-poorest country in the Western Hemisphere – is no exception to being overlooked. The country is facing a trifecta of crises:
• Sociopolitical challenges resulting in great sanctions and economic uncertainty
• An economic collapse exacerbated by several natural disasters
• COVID-19 relentlessly surging in certain regions, with many citizens lacking access to a COVID-19 vaccine or even basic healthcare.
The Roberto Clemente Health Clinic plays a critical role in helping the communities of the southwestern coastal region, especially now during these times of crisis.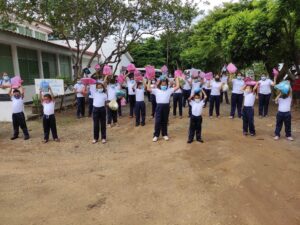 We are a humanitarian group that stays focused on the concrete: what we can do today to make the lives of Nicaraguan families better right now.
For example, our Padrino Program gives uniforms and school supplies to each sponsored child at the beginning of every school year. The children have lab tests to assess their health twice per year. Every child also receives appropriate treatment for any medical condition.
On September 3, face masks were handed out to the children for the prevention of COVID-19 – which continues to affect Nicaragua, causing thousands of deaths in recent months. Our Clinic remains committed to fighting for the education, welfare and safety of all children who are part of this program.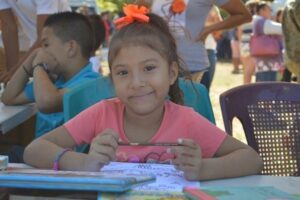 The Clinic provided educational classes about COVID-19 and the importance of wearing masks, washing hands and implementing other health measures to prevent cross-contamination between students.
We also continue working with special cases, providing monthly support with medical appointments and offering transportation to specialists in Managua.
The children in our Padrino Program and their families also benefit from our Nutrition Program, which delivers protein concentrate, rice and beans on a monthly basis.
Child sponsorship tackles poverty and empowers children and their families.
For example, recently, one of our sponsored children in upper school had to leave school for economic problems at home.
His dad is not working because he was sick and lost his job a couple of months ago. He is trying to find a job but has had no luck. The boy told our Clinic team that he is worried about the situation.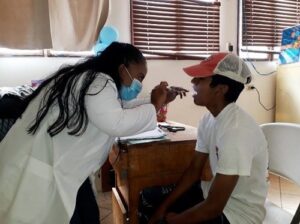 There is a small hotel near his house where he went to find a job, and now he is a nighttime security guard. In Nicaragua, he earns only $100 a month, and it's sometimes less than that. His mom cleans houses and washes clothes, but she doesn't earn enough for the monthly bills. The boy wants to study next year and complete his high school education.
We are working to do what we can to get this hard-working boy back in school. Along with our Padrino Program donors, we try to provide all the support we can with food packages delivered monthly, clean water, free consultations and free medicine.
Here's an excerpt from a recent update from our Padrino Program director in Nicaragua to our sponsors…
As you might know, Nicaragua is immersed in a new and deeper COVID-19 wave. Thousands of people have lost lives. This is accelerating the local family basic needs of food, medicines, and well-being. Most of these cases are in the rural areas where poverty is extreme.
Your children in the Padrino Program and their families have been struggling for lack of job opportunities. However, the children keep studying and doing their normal activities, taking prevention measures because of the pandemic. Fortunately, thanks to your support it is possible for every child to have education at our schools and access to free medical services and medicines. Besides COVID-19, there are also many tropical sicknesses caused by this year's heavy rain in the zone.
The Padrino families and children feel so thankful for your constant support.
Thank you.
We critically need more sponsors right now. We have a waitlist of children that continues to grow. Your support will have a positive impact on an entire community's well-being.
Here is what your generous donation could provide for a child in Nicaragua…
With a $25 per month donation for one year, one student could afford to purchase two sets of school uniforms and the necessary books, backpack and school supplies to fully engage in their school experience.
With a $50 per month donation for one year, one student could afford to purchase two sets of school uniforms and the necessary books, backpack and school supplies, as well as an entire year of healthcare protection. This includes a bimonthly visit to our Clinic, medicine as needed, nutritional assistance with vitamins and supplements, and a vaccination program. This level of giving provides a student with the comprehensive resources needed to succeed in school and beyond.
Now more than ever, your sponsorship will make a huge difference in the life of the child you sponsor.
Ready to become a sponsor?
Please click here to learn more about the program and help a child today.
The Roberto Clemente Health Clinic is 100% supported by donations. We are a 501(c)(3) nonprofit registered in Maryland, so all donations are tax-deductible. We accept funds through PayPal, check and credit card.
You can also donate to support our other programs and initiatives, like clean water filtration and distribution, diabetes support, emergency care, and much more. Please click this link to donate.
Sincerely,
Lorena Cernadas
U.S. Development Office
The Roberto Clemente Health Clinic
[email protected] 
Direct line: 410.369.0512
P.S. The countdown to the world's biggest day of generosity is on! Giving Tuesday is a movement that unleashes the power of generosity around the world. Please join us on Tuesday, November 30, and support The Roberto Clemente Health Clinic!
P.P.S. Thanks to our fans, we are one of the first winners of a 2021 Top-Rated Award from GreatNonprofits! Read inspiring stories about us and add your own here!