Dear Friend of our NicaClinic,
We've been very busy the past couple of months in Nicaragua. The communities surrounding the Clinic need us more than ever as they face mounting health and economic challenges.
And now the heavy rain season is upon us.
Here we would like to share with you a few highlights of our eventful summer!
Many Heartwarming Events Happened This Summer!
The rain won't stop us! Las Cañas is one of the most remote communities in the area, with extremely poor people affected by the heavy rains there. We assessed the roads and decided to drop off much needed medicines to the patients of the Diabetes Club and a package with clothes, hand wipes, milk and 10 pounds of beans.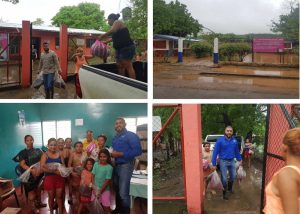 We have expanded our Clean Water Initiative by adding new schools to our delivery list! Here's our team delivering purified water to Sico de Las Mercedes School. Twenty-two low-income children attend this school. We are so proud of this initiative and the children who benefit from it!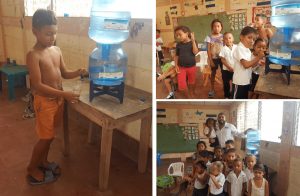 We continue to offer bio-intensive workshops to help people in the communities who are interested in starting their own organic garden. We are always happy to hear what our participants are making and how creative they are getting with the new dishes they are trying out.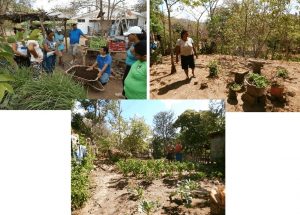 Here's our team delivering mesh for more organic community gardens!

We continuously appreciate the support of our Padrino Program parents who help us cultivate gardens full of healthy plants and vegetables. This is extremely important, especially now when the economy is getting worse by the day and food, particularly healthy food, is very scarce.
In May, we visited a school in the Ojochal community with our volunteer Modesta Hicks. We talked to the kids about the importance of good hand washing and dental hygiene.

Our medical director, Dr. Ruiz, offered a preventive talk on dengue at FunLimón. Nicaragua's government has issued an epidemiological alert over the spread of dengue fever.

The Roberto Clemente Health Clinic is constantly focusing on educational campaigns to prevent diseases and their complications.
With all our projects and initiatives, and the growing pressure on the Clinic to help more people in times of crisis, we need more funds. As with many nonprofits supporting critical areas around the world, funding is down. We are underfunded this year by tens of thousands of dollars compared with budgets of previous years. Please support us however you can so we can keep our programs running.
This Nicaragua community is in high need for primary care, emergency care and nutritional support. We are there on the ground in very tangible ways every day, and the communities are deeply appreciative. They also are participating in our programs in greater numbers than ever before.
The Roberto Clemente Health Clinic is supported primarily by individual donations. We have a matching program through The Oxford Club. We are a 501(c)(3) nonprofit registered in Maryland, so all your donations are tax-deductible. We accept funds through PayPal, where you can also donate with your credit card. You can also mail a check, and we accept stock donations as well. To donate, click here.
On behalf of the Clinic team, enjoy the last days of summer! And come visit us soon!
Sincerely,
Lorena Cernadas
U.S. Development Office
The Roberto Clemente Health Clinic
[email protected]
P.S. We are planning a very exciting event for next year – our Wellness Weekend 2020! January 23-28, 2020, we invite you to join us for "travel with purpose" – a fun and memorable long weekend staying at the Rancho Santana resort and working with the Clinic wellness programs team.
We will have special guest speakers on healthy cooking using local ingredients, yoga, fitness and meditation, and preventative care. This also includes attendance to our annual Community Health Fair at the Clinic. There will be time to enjoy yourself with recreational activities around this stunning coastal area. We will also have planned community outreach activities with our Clinic team. All this while getting a deeply discounted stay at one of the top-rated resorts on the Pacific coast, Rancho Santana.
Keep an eye out for more details coming soon!