Dear Friend of the Clinic,
Thank you again for all your support to our Roberto Clemente Health Clinic and Wellness Center and its surrounding communities during these highly challenging months and years.
You will see below that your care and support are having a tremendous impact on the well-being of many impoverished families. And thanks to your involvement, we've been able to grow and offer not only general and emergency care, minor surgery, dentistry, lab work, a fully stocked pharmacy, and the only off-road ambulance service in the area but also several innovative programs to prevent illness.
During these times of despair, one of the most important parts of our health education programs is our outreach to the communities and their families who cannot make it into the Clinic.
In early 2020, as part of our pandemic prevention program, we implemented a Community Outreach Program to serve families in their communities at their homes, prioritizing those who live in more remote regions and have fewer resources.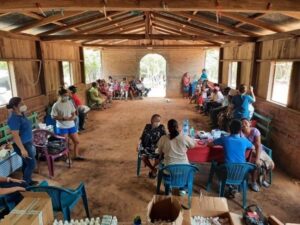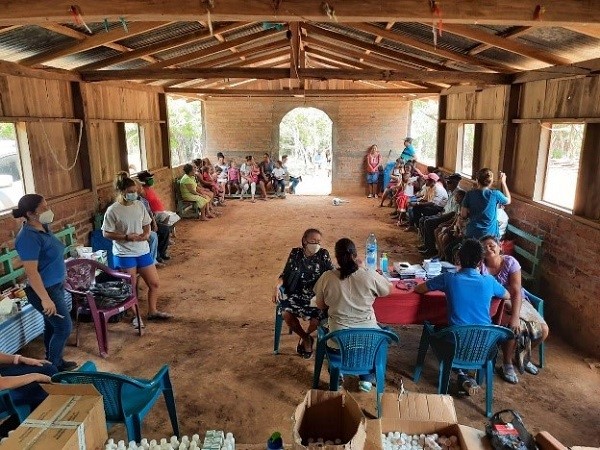 Community outreach is about getting outside the Clinic facility to give, contribute and directly help those in highly vulnerable situations. It not only makes our Clinic team stronger but also brings the community together as a whole.
For more than a year now, our medical brigades have provided healthcare – including diabetes preventive education, much-needed medicines, clean water and nutritional food – to those in desperate need.
The Roberto Clemente Health Clinic serves as a positive agent for change by improving the quality of life for thousands of people in the Tola area through these outreach programs.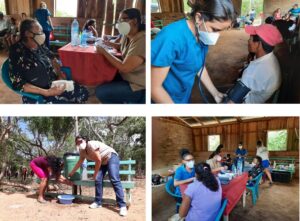 Last year, our Volunteers Program suffered the consequences of the pandemic. Thankfully, 2021 is bringing volunteers back to our Clinic. We welcome all individuals – those who come to practice what they've learned in medical school and those who are not medically trained but just want to help us with our public healthcare mission.
You can volunteer abroad with us – learn more here.
Not ready to travel yet? You can still make a huge impact on a child's life by joining our Padrino Program for health and education. The promise of better educational access and support by providing new uniforms, backpacks and school supplies – as well as free healthcare – could sound impossible to a Nicaraguan child, but you can make a child's dream come true through one-on-one sponsorship. Click here to become a Padrino/Madrina. Over the years, we've put more than 80 children through school, and several have gone on to higher education, even universities.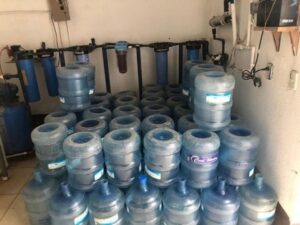 Our filtration and distribution program, as part of our Clean Water Initiative, is getting an upgrade, thanks to you.
The Roberto Clemente Clinic maintains a water purification plant in response to the health and water supply needs in the area where the Clinic is located.
Water in the area is supplied solely by artisanal water wells. The soil in the area is of volcanic origin, meaning the water that is extracted from the wells is rich in salts and calcium. And that can contribute to the development of diseases and kidney stones in the population.
Our Clean Water Initiative promotes and educates on the importance of safe water use and provides purified bottled water to schools and health centers in the area, free of charge. In the past three years, the area was affected by three hurricanes. The only source of free pure water to the entire community was our Clinic.
In an effort to continue supporting the community, the Clinic, together with FunLimón – a local nongovernmental organization that supports community development and education – is helping protect families' artisan wells from contamination by providing walls and covers. Likewise, the American Nicaraguan Foundation supported the Clinic by providing filters for the water plant during times of crisis.
Our Clinic serves 35 communities with around 14,000 people who come for healthcare and wellness services for their families. Due to the demand and need to expand the distribution of water to schools, health centers and families, the water purification plant needs to expand its infrastructure to meet the demand of this extremely poor community. The costs of filters, logistics and transportation have a high impact on the operation of our purification plant. Nicaragua has one of the highest gasoline costs in Latin America.
We are also in the early stages of looking into installing a solar power system for the Clinic. We are too dependent on diesel for our backup generator, which we use frequently because of the unstable power grid in Nicaragua. With the rising costs of supplies and energy around the world – particularly in Nicaragua – your donation today can help us with this new clean energy investment. Please donate here.
We believe it is vital to provide even more safe water to the community we serve. Thus, we need to expand the infrastructure of the plant with a larger area for washing and storing bottles and purification filters. FunLimón and the Clinic are joining forces to develop a project to provide safe intubated water to the Limón community. This project demands the need for a large-capacity water storage tank, pipes, etc.
While it may be hard to imagine the impact that your financial contribution may have on such a distant community, every dollar helps us pay for the medical, administrative, facility, training and logistical costs that keep the Clinic operating 24/7. Whether it's $50, $500 or $5,000, your contribution will make a difference – and it's 100% tax deductible.
Donating takes only a minute, but it will have a long-lasting effect on the people of Nicaragua.
Please click here to donate. (We also accept stock donations through Charles Schwab and cryptocurrency donations through The Giving Block and Coinbase.)
If you'd like to mail a donation by check, please send it here:
The Roberto Clemente Health Clinic
105 W. Monument St.
Baltimore, MD 21201
Sincerely,
Lorena Cernadas
U.S. Development Office
The Roberto Clemente Health Clinic
[email protected]
Direct line: 410.369.0512