Dear Friend of the Clinic,
We've been very busy over the past couple of months in Nicaragua, and the work continues. The poor, remote communities surrounding the Clinic need us more than ever as they face mounting health and economic challenges. We work in a fragile region in the second-poorest country in the Western Hemisphere.
We've all had our fill of tragic news this year. But we would like to share with you a few promising achievements of the year so far that we've been able to accomplish thanks to your support!
Our Outreach Program and the Support of Our Volunteers
In January, Chair of the Board Julia Guth visited our Clinic and participated in our first community outing of the year in La Cúcala, a remote community.
During the outreach activity, we provided medical care, medicines, education on proper hand-washing and talks on COVID-19 prevention.
We also received the support of Dr. Fred Mandell, a longtime Clinic supporter and member of our Advisory Council, who cared for children in the Clinic and in different communities in the area.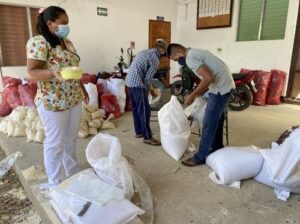 On January 20, a group of volunteers from surrounding communities assisted our team in packing food for our monthly delivery. We are very pleased with our local volunteers who have stepped up in the past couple of years to assist our team with daily activities, such as delivering water, cleaning green areas of the Clinic, maintaining the warehouse, packaging food, etc.
Also, Dr. Edward Hayes, an orthopedic physician, volunteered at our Clinic, providing acupuncture therapies, exercises and treatment for muscular issues. He assisted a total of 22 patients while he was at the Clinic.
These outreach activities happen every month. And we had more volunteers from the U.S. attend an outreach event in the La Uva community this month.
Are you interested in volunteering at our Clinic? Start the process here.
Improvements to Our Clean Water Initiative
We are in the process of making some major – and much-needed – renovations to our water treatment plant, including expanding the washing and filling area and making improvements to the filtration process.
This year, we will be supporting eight schools and three health centers. The cost of logistics and overall distribution continues to increase in Nicaragua, but we are committed to reaching the most vulnerable communities in the area with our Clean Water Initiative, despite all the challenges.
Helping One Child at a Time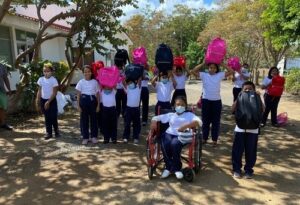 In January, the first distribution activity for the children of our Padrino Program took place. As part of this rewarding program, children receive school uniforms, books, a backpack and school supplies, as well as an entire year of healthcare protection, including a bimonthly visit to our Clinic, medicine as needed, and nutritional assistance with vitamins and supplements. Fifty dollars per month provides a student with the comprehensive resources needed to succeed in school and beyond. Join our Padrino Program here.
In addition to delivering school supplies, uniforms and a small snack for the children, we also addressed important issues of motivation and continual care in the midst of the COVID-19 pandemic. We practiced proper hand-washing and emphasized the importance of using prevention methods in public places.
Nutrition Program for Healthy Living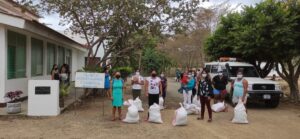 In February, we received support from Isabel Currey, who donated 60 food packages for the families of our Nutrition Program.
On February 18, food packages were delivered, benefiting 58 families and a total of 232 people.
This program is possible thanks to the donations of our local partners and private donors like you.
We are very proud of our accomplishments so far despite all the challenges we have faced over the past couple of years – including two hurricanes and the COVID-19 pandemic.
The Clinic is a 24/7 operation. We will continue to work around the clock to respond to the current crisis and help the community get back on track.
Your donation will make a huge impact on the lives of thousands of Nicaraguans suffering today.
The Roberto Clemente Health Clinic is a donor-supported 501(c)(3) nonprofit registered in Maryland, so your donation is 100% tax-deductible. We also accept cryptocurrency donations and stock donations.
Most sincerely,
Lorena Cernadas
U.S. Development Office
The Roberto Clemente Health Clinic
[email protected]
Direct line: 410.369.0512
P.S. Click here to review our 2021 Operational Report.