Dear Friend of the Clinic,
I'm reaching out to tell you about a unique and exciting (and delicious!) new project our Clinic embarked on.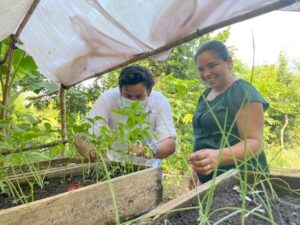 As the second-poorest country in the Western Hemisphere, Nicaragua suffers immensely from a deficiency in available medical care. The Roberto Clemente Health Clinic is a model nonprofit that helps thousands of people every year in the southwest, underserved region of Nicaragua. As you may know, we offer general and emergency care, minor surgery, dentistry, lab work, clean water distribution and family nutrition programs, and a fully stocked pharmacy.
But you may not be aware that we're also a wellness center, providing family counseling on everything from diabetes prevention and social services to sanitation education and COVID-19 prevention. Importantly, right now in this era of food supply shocks, we're rapidly expanding our organic garden program. We now have 112 gardens completed or in process, and over 700 people benefit from this program.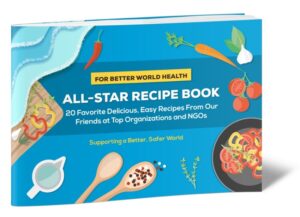 We are excited to share our All-Star Recipe Book. We asked members of our community, both in Nicaragua and in the United States, to join us in creating a recipe book that we could share with you all. Our neighbors and friends have come together in times of celebration and in times of need. We at The Roberto Clemente Health Clinic are grateful for this community.
In Nicaragua, we conduct a health fair every year, where people from the community come to celebrate health. Inspired by how our organic gardens and food education have improved the lives of our community, we decided to make this book. We are inspired by our community members and how they have improved their lives through good eating.
Food unites people, and we hope this book helps bring our communities closer together. No matter where in the world you come from, food has a way of speaking about who we are. We invite you to try one, or all, of the recipes in this book. These recipes represent a way of life for many people.
At the Clinic, we are proud of our team and our partners who helped us put this recipe book together. Please click here for an electronic version of our recipe book. We hope you enjoy this book and, more importantly, the food.
We want to extend our gratitude to our contributors…
Future Harvest
Rita Calvert and Michael Heller
www.futureharvest.org
Rancho Santana
www.ranchosantana.com
FunLimón
www.funlimon.org
Living Classrooms Foundation
www.livingclassrooms.org
John Dau Foundation
www.johndaufoundationsouthsudan.org
The Oxford Club
www.oxfordclub.com
Sam Talbot, celebrity chef and author
Also, as a special thank you gift to our supporters, we will send you a printed recipe booklet for a $100 donation or more! Please click here to donate.
Thanks to your generous support, we can continue to provide excellent health services to the impoverished, deserving people of Nicaragua.
In good health,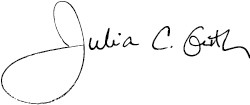 Julia C. Guth
Chair of the Board
The Roberto Clemente Health Clinic
www.nicaclinic.org